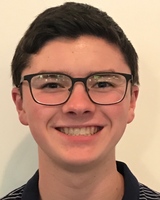 Alex Drain
Tim Kurkjian Sports Journalism Fellow
Alex served as a broadcast intern during the Big Train's 2019 season, and is looking forward to returning for his second season of work in the Shirley Povich broadcast booth alongside broadcast partner Shaun Salehi.
Alex is a rising senior at the University of Michigan studying Communication & Media as well as Political Science. During the school year, he is the Executive Director of WCBN Sports, the official student radio voice of Michigan athletics, and has represented the station at some of the biggest stages in college sports. Alex brings with him over 150 games of broadcast experience in more than 10 different sports. Alex is a currently-suffering Detroit sports fan but is always willing to dream of a more optimistic future.
Alex is the host and producer of "Top Ten Thursdays" on bigtrain.tv.