Black Sandlot Teams
The Diamonds of Montgomery's Black Sandlot Stars
Big Train Founder Bruce Adams and Bethesda Community Base Ball Club Board Member Billy Gordon discuss the rich history of Montgomery County's Black sandlot baseball, a story of our Black community's extraordinary resilience and entrepreneurship in the face of segregation, in a 2021 Montgomery History presentation, "In Search of the Ballfields of Montgomery's Black Communities" which can be viewed

here

.
Read Bruce's "Hidden Diamonds" article in the May/June 2022 issue of
Bethesda Magazine
here
.
On Sunday, June 12, 2022, the Bethesda Big Train celebrated the legacy of Montgomery's Black sandlot teams with the First Annual Clarence "Pint" Isreal Juneteenth Classic. "Pint" Isreal was Montgomery County's greatest Negro Leagues star. He played on the 1946 Negro World Series champion Newark Eagles. He later competed in Montgomery's Black sandlot games and became a valued mentor to many local youth. At the June 12 pre-game ceremony, Joe Yasharoff announced that Mr. Isreal would be inducted into the Montgomery County Sports Hall of Fame on December 4, 2022. Click here for information about attending the induction ceremony. "Pint" Isreal's grandson, Khali Isreal, represented the family at the June 12 pre-game ceremony and was joined by former Scotland Eagle Eddie Dove, Emory Grove native and 13-year MLB veteran Milt Thompson, and baseball historians and Big Train board members Billy Gordon and Bill Hickman.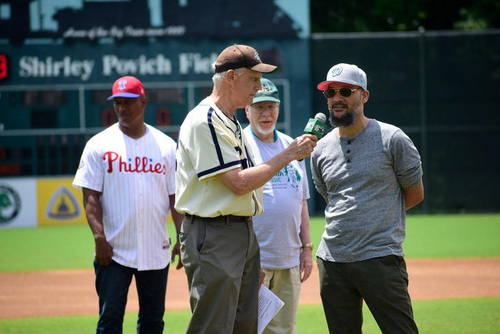 Negro Leagues star "Pint" Isreal's grandson, Khali Isreal, speaks with Big Train president and founder Bruce Adams in a pre-game ceremony before the June 12, 2022 Clarence "Pint" Isreal Juneteenth Classic at Shirley Povich Field.
In the last half of the nineteenth century, when Blacks made up four of every ten Montgomery residents, formerly enslaved people organized more than three dozen communities. Along with churches and schools, baseball became the center of civic life in these communities in the middle decades of the twentieth century. Dozens of these communities, from Emory Grove to Lyttonsville and Scotland to Sandy Spring, organized sandlot teams. "On a Sunday afternoon, the entire African American community was there," Billy Gordon, one of Rockville's finest athletes, has explained. "The folks who had gone to church were there. But everybody else who loved the game showed up from infants to the elderly. It was quite a scene. The preacher would be at the game, and the bootlegger would be there dispensing beverages."