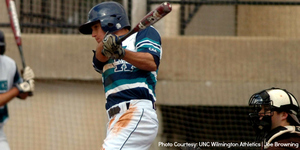 Michael Bass (BT '11-'12) had an incredible week that was highlighted by a truly incredible game. For the week, Bass went 11 for 17 at UNC-Wilmington and collected two walks, four doubles, and four stolen bases while scoring five runs and driving in six. His incredible game came Sunday against George Mason, where he recorded this stellar line: 4/4, 2BB, 3R, 2RBI, 2B, 3SB. Bass is now batting .433 on the season and ranks fourth in the nation. He has also extended his on-base streak to 38 games.
Also helping the Seahawks this week was Kelly Secrest (BT '11). He picked up a win and a save over 7.2 innings. He didn't allow a run and gave up just five hits, walked two, and hit one batter while striking out seven.
One other great individual stretch came from a Seahawk opponent this week in Josh Leemhuis (BT '11) of George Mason. The numbers speak for themselves. Leemhuis filled the entire box score this week with an extremely diverse set of statistics: 10/18, 2BB, HBP, 6R, 3RBI, HR, 3B, 4 2B, SB.
Two west coast squads with heavy Big Train presences got great contributions this week as well. The first were the Gaels of St. Mary's (CA). Ben Griset (BT '12) pitched eight innings and gave up three runs on 12 hits and no walks while striking out five. Luckily for the Gaels, Gary Cornish (BT '13) was there in relief to pick up the win. Cornish threw three innings this week and gave up nothing while striking out three. At the plate, three Big Train alumni came through. Markus Melgosa (BT '10), Brenden Kalfus (BT '11), and Cole Norton (BT '12) combined to go 14 of 37 with three runs, seven runs driven in, two doubles and a stolen base.
The other west coast team benefiting from Big Train influence was San Diego State. Ryan Doran (BT '12) threw seven good innings as he gave up just one run on six hits and two walks while he struck out four. Bubba Derby (BT '13) pitched 5.2 innings out of the bullpen this week for the Aztecs and gave up just one run on two hits and four walks while he sent eight batters packing via the strikeout. Ethan Miller (BT '12) also helped out by throwing 3.2 innings and allowed just three hits (no runs or walks) and struck out seven. Tyler France (BT '13) assisted at the plate as he went 5/16 with two walks, two RBIs, and a double.
Other notable hitting performances: Kevin Tatum (BT '13 / Cornell) - 8/17, 2BB, 5R, 3 2B... Colin Kish (BT '12 / Florida Southern) - 5/10, 4R, 2RBI... Tim Quiery (BT '11 / San Jose St.) - 7/15, 2R, 6RBI... Justin McCullough (BT '10-'12 / El Camino CC) - 6/15, BB, 2R, 8RBI, 3B, 2B... Hunter Renfroe (BT '11-'12 / Mississippi St.) - 3/13, 5BB, 5R, 3RBI, HR.
Other notable pitching performances: Joe Mantiply (BT '10 / Virginia Tech) - 7IP, W, 0ER, 3H, BB, 6K... Michael Judge (BT '13 / Methodist (NC)) - 6.1IP, W, 0ER, 5H, 3BB, 2K... Michael Frank (BT '11 / Bowling Green) - 8IP, W, ER, 2H, 2BB, 8K... Cameron Cuneo (BT '12 / UC Santa Barbara) - 5IP, W, ER, 4H, 3BB, 2K... Troy Rallings (BT '13 / Washington) - 5.1IP, ER, 6H, 3BB, K... Danny Mooney (BT '13 / Davidson) - 6.2IP, W, 3ER, 7H, 4BB, 5K.