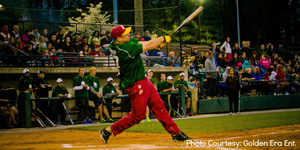 The Inaugural Big Train FanFest and the Second Annual Big Train Celebrity Softball Classic presented by Avenue Wealth were true successes last Saturday night at Povich Field.
With over 1,400 people in attendance, the FanFest got the day off to a great start with some games and fun on the Povich Field concourse. Fans quickly started to realize that the Celebrity Softball Classic was going to be a huge draw and they started taking their seats for what was to be a hotly contested battle between the athletes and the media.
The media were looking for revenge after they dropped last year's game 3-2, but this was not their year either. The athletes were led by MVP Byron Mouton (Maryland Terrapins Basketball) who had two doubles in the game. The game eventually ended with the athletes on top by a score of 10-3.
The Bethesda Big Train would like to thank everyone who helped with the event from the sponsors to the staff to the fans in attendance. Without you, the game would not have been able to raise as much for the Big Train's cause as it did.