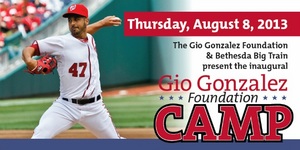 The Bethesda Big Train are proud to announce the formation of a new charitable project that is sure to be a great experience for the community.
The event, The Gio Gonzalez Foundation Camp with Special Guests, will be hosted by the Big Train and will take place at Shirley Povich Field on August 8th, 2013. The camp is set to benefit underprivileged youth and will be hosted by Gio Gonzalez of the Washington Nationals.
Additional news about the camp will be made public in the coming months. For more information about The Gio Gonzalez Foundation,
click here.