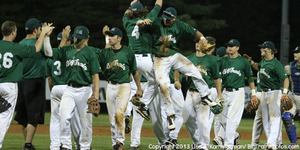 Box Scores: Game 1: W, 4-0, Game 2: W, 3-1
After a brief road trip to Herndon on Sunday, the Big Train returned home to Povich Field on Monday to host the Vienna River Dogs in a doubleheader. Due to the nature of the doubleheader, each game was seven innings long.
Bubba Derby (San Diego State) started Game 1 for the Big Train, and pitched a near-perfect game. Derby pitched a complete-game shutout for Bethesda, giving up just two hits and a walk over his seven innings of work while striking out six. Derby was also able to work very quickly, as the game lasted just one hour and 27 minutes.
The Big Train offense was present to give Derby run support in Game 1, managing to push across four runs. Two RBIs from Tucker Tobin (George Mason) and multi-hit games from Kyle Wernicki (Virginia Tech) and Ricky Santiago (Florida Atlantic) paved the way for the Big Train offense, as the team scored four runs in their 4-0 victory.
Luis Collazo (Virginia Tech) took the mound for Bethesda in Game 2, and also gave the team a high-quality start. Collazo went 4.2 innings, also giving up just two hits and a walk. He would have a chance to pitch with an early lead, as an RBI single by Tim Yandel (Tulane) in the first inning gave the Big Train a 1-0 lead.
However, Collazo would yield the tying run in the fifth inning, and Cody Mizelle (Florida Atlantic) would work the final 2.1 frames for the Big Train. Mizelle gave Bethesda exactly what they needed out of the bullpen, putting together a perfect line (0 R, 0 H, 0 BB) in his 2.1 innings of work. The offense would reward Mizelle for his efforts, as Yandel and Johnny Cole (Coastal Carolina) scored in the bottom of the sixth to give the Big Train the 3-1 lead. The lead would stand, and Mizelle picked up his second win of the season. In five appearances thus far, Mizelle has not given up a single run.
With the two-game sweep, the Big Train now find themselves in first place with a three-game lead in the CRCBL Standings. Having won eight out of their last 12 games, the Big Train are now 12-3, with three more wins than any other team in the league.
The Big Train will finally get a day of rest on Tuesday after playing 11 games in 11 days. The Big Train will then travel to the nation's capitol on Wednesday to take on the D.C. Grays before returning home on Thursday to take on the Southern Maryland Nationals at Povich Field. Thursday will be Carnival Night, so come on out and enjoy the rides, Petting Zoo and Pony Rides available for kids in the parking lot before the game! Kids will also have the opportunity to run the bases after the game.