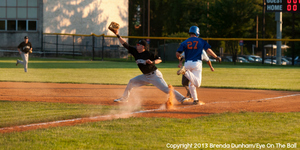 The Big Train traveled to Knight Stadium on Saturday night to take on the Rockville Express who sat in second place behind the Big Train at the beginning of the day.
Danny Mooney (Davidson) got the start for the Big Train, and gave the team five solid innings. Mooney gave up just two runs on five hits and a walk while striking out three.
In the sixth inning, Bubba Derby (San Diego State) would come in to relieve Mooney with the Big Train trailing 2-1. He would give the team near-perfection on the mound, giving up no hits and two walks while striking out four over the last four innings of the game.
After Tim Yandel (Tulane) and Mike Miedzianowski (High Point) picked up a pair of hits in the seventh inning, Tucker Tobin (George Mason) would come up big with a one-out, two-RBI double to give the Big Train the 3-2 lead.
Derby picked up his fourth win and continues to hold a perfect earned-run average. He leads the CRCBL in both statistics.
The Big Train return home on Sunday to take on the Youse's Orioles at Povich Field. Make sure to come out early for Health Night at the ballpark! The gates open at 6:00, there's a free Zumba Class at 6:30, and first pitch is at 7:30 PM.