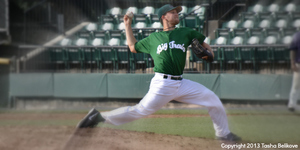 Big Train pitcher Bubba Derby (San Diego State) has been named the Cal Ripken League's Pitcher of the Week after throwing 11 innings of shutout baseball in which he allowed just two hits and three walks while striking out ten.
"It's a great honor and hard work is paying off," said Derby. "But we gotta keep rolling."
Derby pitched twice in the eligibility period that spanned from June 24th through June 30th. The first was a seven-inning complete game shutout of the Vienna Riverdogs in the second half of a doubleheader. Derby threw 88 pitches and gave up two hits and a walk while striking out six.
His second appearance was in relief in Rockville last Saturday night. Derby held the Express scoreless while the hitting secured a comeback victory. Derby pitched four innings of no-hit relief despite giving up two walks. He struck out four.
Derby is currently leading the league in wins (4) and earned run average (0.00) and will take the mound for the Big Train against the Rockville Express at Povich Field tonight at 7:30pm.
Derby's award makes back-to-back Pitcher of the Week awards for the team, as Mike Boyle (Radford) earned the award the week before.