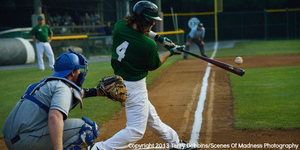 Box Scores: Game 1: L, 3-1, Game 2: W, 2-0
The Big Train returned home on Tuesday to play host to the DC Grays in a doubleheader at Povich Field.
Luis Collazo (Virginia Tech) got the start for the Big Train in Game 1 of Tuesday's action, and pitched a (seven-inning) complete game, giving up three runs on six hits, a walk, and a hit batter while striking out five. However, Ty France (San Diego State) hit an RBI single in the first inning wouldn't be enough offense, as the Big Train mustered just three hits and dropped the first game 3-1.
In the second game, the Big Train bounced back. David Del Grande (Sacramento State) helped the cause immediately, hitting a lead-off home run in the bottom of the first inning to give the Big Train a 1-0 lead before a single out had been recorded.
In the second inning, Josh Spano (High Point) drew a lead-off walk, and after being advanced to third base, scored on an RBI single by Harrison Bruce (San Francisco) to give the Big Train the early 2-0 lead.
Michael Boyle (Radford) started the second game for Bethesda, and, like Collazo, pitched a complete game. Boyle pitched a seven-inning shutout on just three hits and two walks while striking out seven. Receiving some support from the offense, Boyle was able to pickup the win to help the Big Train split the two-game set.
The Big Train hit the road again on Wednesday, as they play their first game of a four-game road trip against the Gaithersburg Giants at Criswell Automotive Field at Kelley Park.
Bethesda will then play a doubleheader against the Vienna Riverdogs on Thursday before finishing the trip with a game in Alexandria against the Aces on Friday.
The Big Train will return to Povich Field on Saturday night to take on the Silver Spring-Takoma Thunderbolts. It's Superhero Night, so come hang out with Spiderman, clang fists with Iron Man, or meet the Dark Knight himself. Also, we will be offering dollar hot dogs and all fans in attendance will get a season souvenir program! Players from the Rockville Victors professional basketball team will be in attendance signing autographs. With just nine regular-season home games remaining before the playoffs, don't miss your chance to see the team before it's too late!