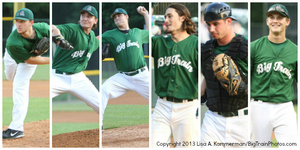 The Big Train would like to congratulate the six players that have been recognized by the CRCBL to represent the team as All-Stars in the showcase that is scheduled to be played at Shirley Povich Field on July 17th. The game will also be preceeded by a home run derby and entry is free to all those in possession of a Big Train Season Pass.
Bubba Derby (San Diego State) has been simply phenomenal so far this season. He leads the CRCBL in almost every pitching category (including his perfect 0.00 earned run average) and has led the Big Train to victory every time he has taken the mound.
Michael Boyle (Radford) has been almost as un-hittable and currently holds a 0.38 ERA, a .667 WHIP, and has 23 strikeouts compared to just five walks over 24 innings of work. He has been the winning pitcher in all four of his starts.
Zach Morris (Maryland) has been a solid starter for the Big Train so far this season. He has started five games and never pitched fewer than five innings and has picked up wins in two of his last three starts.
David Del Grande (Sacramento State) has been the team's best hitter and lead-off hitter all season. He is leading the CRCBL in being hit by pitches (12), second in runs scored (21), fifth in stolen bases (8), and top ten in both doubles and batting average. He has also become a fan favorite for his great defense in centerfield.
Josh Spano (High Point) has proven that he is the best defensive catcher in the CRCBL by throwing runners out who were trying to steal and even some who had just strayed a little too far off their base. He's also used his understanding of pitching tactics at the plate where he's struck out just five times so far.
Tim Yandel (Tulane) has also been a great help on defense. Splitting time between second base and shortstop, Yandel's glove has saved more than a few runs for Big Train pitching. At the plate, he's known for his solid approach and making opposing pitchers work hard.
For the complete Cal Ripken League All-Star team rosters,
click here.