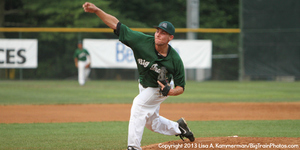 The Big Train took on the struggling Presstman Cardinals at Povich Field on Thursday night, as they looked to get off to a hot start coming out of the All-Star Break.
Justin Hepner (San Diego State) got the start for the Big Train, and put together what was arguably his best start of the season. Hepner went seven innings, giving up just two runs on four hits and a walk while striking out three.
The Big Train offense got going right out of the gate, scoring three runs in the first two innings. After first-inning RBIs by Ty France (San Diego State) and Josh Spano (High Point), France picked up another RBI in the second inning to make the lead.
The Cardinals would score a run in the top of the fourth to cut the score to 3-1, but the Big Train would quickly respond. In the bottom of the sixth, the Big Train would score two more runs. After Tim Yandel (Tulane) scored on a wild pitch by Presstman's Brandon Taylor, Harrison Bruce (San Francisco) would hit an RBI single to drive in Kevin Tatum (Cornell) to extend the Big Train lead to 5-1.
The Cardinals would score another run in the top of the seventh to cut the Big Train lead to 5-2, but once again, Bethesda's offense answered.
In the bottom of the seventh, an RBI from Yandel made the score 6-2, before Yandel would once again score on a wild pitch to further pad the lead.
Will Resnik (High Point) came in to relieve Hepner in the eighth inning, giving up no runs, hits or walks to set up the offense for yet another big inning.
The offense would score three more runs in the bottom of the eighth, making the score 10-2. The cushion would be more than enough for Resnik to close out the Cardinals, as he pitched another perfect inning in the ninth to secure the 10-2.