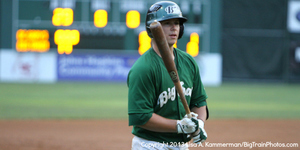 The Big Train returned home to face the Youse's Orioles on Tuesday as the Orioles were looking to stay in the playoff hunt.
After taking a 1-0 lead in the first inning, the Orioles gave the lead back to the Big Train rather quickly as Ty France (San Diego St.) had a bases-clearing double to make the score 3-1.
However, it went downhill from there. The Orioles scored eight unanswered runs over four innings to make it 9-3 before a mini-comeback by the Big Train cut the lead to 9-5 in the bottom of the eighth.
France had a three-hit night and David Del Grande (Sacramento St.) had two hits of his own, but it just wasn't enough to stop the Orioles.
The Big Train look to bounce back tonight as they take the short road trip to Silver Spring at Blair Stadium to take on the T-Bolts tonight at 7:00. Riley Stephenson (UMBC) takes the mound for the Big Train.