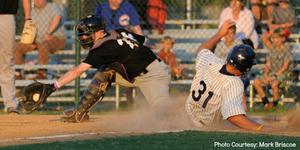 The Big Train traveled to Alexandria on Monday to take on the Aces, as they looked to close out the regular season.
After falling behind 2-0 through five innings, the Big Train pushed across a run in the sixth as Tucker Tobin (George Mason) scored on a wild pitch. However, the Aces scored four runs in the bottom half of the inning. Despite eight Big Train players recording a hit in the game, Bethesda was ultimately unable to overcome the five-run deficit, and lost 6-1.
The game meant some valued rest time for some Big Train regulars and allowed others to get some fun in before the playoffs start. Big Train outfielders Logan Farrar (VCU) and Kevin Tatum (Cornell) played second and third bases respectively. Big Train relief pitcher Will Resnik (High Point) got in on the fun as well by showing off his bat with a single out of the designated hitter slot. Since a pitcher was hitting, a hitter had to pitch. So Tim Yandel (Tulane) came in to face the last Alexandria batter and promptly struck him out.
Without the benefit of minimum requirements, Yandel's 0.00 ERA and Resnik's .333 batting average lead the Big Train. Those stats will be a fine memory as the regular season comes to a close and the postseason begins.