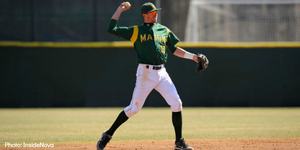 At George Mason University, Brandon Gum (BT '12) had a solid week out of the two-spot in the Patriots' lineup, going 10-for-24 with two doubles, four walks, seven RBIs, five runs scored and a stolen base. While Mason posted a 2-3 record on the week, Gum hit .416 for the Patriots across the five games.
In Florida, Ryan Willard (BT '13-14) had a very productive week for Tallahassee Community College, going 5-for-7 with a double, a triple, a walk, a sac fly, four runs scored and four RBIs. Willard's big bat helped carry the Eagles to wins in games against Northwest Florida State College and Gulf Coast State College on Monday and Wednesday, respectively.
At High Point, Josh Spano (BT '13-14) had a big week for the Panthers, hitting a home run, a double, two walks, four RBIs and three runs scored. Cody Manzella (BT '14) also contributed four hits on the week, driving in a run while scoring two of his own.
Notable Hitting Performances: David Del Grande (BT '13/Sacramento State): 4-for-14, 2B, 3 RBI … Ty France (BT '13/San Diego State): 4-for-8, 3 BB, 1 HBP, 1 RBI, 1 R
Notable Pitching Performances: Bubba Derby (BT '13/San Diego State): 7.1 IP, 10 H, 2 BB, 2 ER, 7 K, L … Seth McGarry (BT '14/Florida Atlantic): 2.0 IP, 1 H, 3 BB, 0 R … Tim Yandel (BT '13-14/Tulane): 1.1 IP, 0 H, 0 BB, 0 R