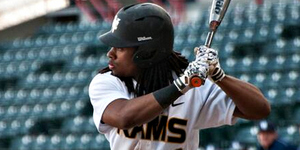 At Virginia Commonwealth, outfielder Logan Farrar (BT '13-14) had a pair of strong games for the Rams this week, going a combined 5-7. Farrar hit a home run for the Rams in the second game of Thursday's doubleheader against Fordham, and also managed to go a perfect 3-for-3 in the first game with a walk and a run scored.
Tyler Warmoth (BT '14) had a very productive week on the mound for Stetson University, picking up a win and two saves across three appearances. Across 5.1 collective innings, Warmoth struck out five batters while giving up no runs on just two hits and no walks. Warmoth is now 4-3 on the season with nine saves.
At Florida Atlantic, a pair of Big Train arms combined to help the Owls defeat the FIU Golden Panthers. Bo Logan (BT '12, '14) and Brandon Rhodes (BT '14) combined to pitch 2.2 shutout innings, striking out a combined four batters (two batters each). Rhodes gave up just a lone walk in his 0.2 innings of work, while Logan gave up two hits over 2.0 innings. The Owls beat the Golden Panthers 5-1, and now have just one series left before the Conference USA Tournament begins on May 21.