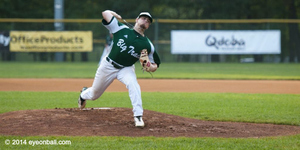 The Bethesda Big Train hosted the Alexandria Aces on a scorching hot Wednesday night in a battle of the top two teams in the league. J.P. France (Tulane) took the mound to begin the game for the Big Train. On the season he has pitched 11 innings and given up no runs, recording 13 strikeouts. Wednesday's game was more of the same for France, pitching four innings of scoreless ball, only giving up two hits, while striking out four batters, including three looking.
Josh Thorne (Stetson) came out of the bullpen for the Big Train and got the win. In four innings of work, he was able to strike out six batters, giving up two runs on a home run by the Aces. Andy Frakes (San Francisco) closed the game out, pitching a quick 1-2-3 inning, throwing only nine pitches and recording the first save of the season for the team.
The Big Train hitters were seeing the ball well to start the game and were able to score their first run of the night before recording their first hit. Behind three walks, a hit batter, and an error in the second inning, the home team took a 1-0 lead, while forcing the opposing pitcher to throw 52 pitches.
The Aces starting pitcher was knocked out of the game in the bottom of the fourth inning after giving up an RBI single to Ryne Willard (N.C. State), scoring Tony DiLeo (Eastern Michigan). The Aces pitcher surrendered five walks, three singles, and three runs. Kevin Tatum (Cornell) recorded his second RBI of the game on bloop single to right field giving the Big Train a 3-0 lead.
In the 8th inning, with the Big Train leading 3-2, Stephen Alemais (Tulane) got his first hit of the night, singling home Cody Brown (Mississippi State). Logan Farrar (Virginia Commonwealth) provided some insurance, singling home Alemais from second base on his first hit of the night.
On a night when the Big Train bats were relatively quiet, the pitching staff picked the team up, giving up four hits and striking out 11 batters, giving the Big Train a 5-2 victory.
Notes: Johnny Cole (Coastal Carolina) reached base four times....Kevin Tatum recorded two RBI....Come out Saturday Night against the Youse's Orioles for Bobble Head Night!