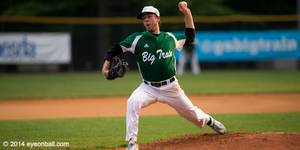 On Friday night the Bethesda Big Train (23-6) took on the FCA Herndon Braves (11-14) in front of a crowd of 963. Henry Sisson (North Carolina) went six innings in the 17-3 win, giving up seven hits and two earned runs while striking out eight batters. Sisson continuously got batters to swing and miss at his stuff.
Josh Thorne (Stetson) pitched two innings allowing two hits and zero runs while striking out four batters. Jacob Billingsley (Mississippi State) pitched the 9th inning without giving up a run and striking out one.
The Big Train kicked off the scoring early in the bottom of the 1st inning on back-to-back doubles. Brandon Lowe (Maryland) flied a double in the left-center field gap and cruised into second. Lowe scored when the next batter, Chris Lewis (Sacramento State), lined a double off the center field wall to give the Big Train a 1-0 lead.
The Braves were able to score a run in the top of the 2nd inning on one hit and an error surrendered by Bethesda.
In the 3rd inning, the Big Train tacked on three more runs. Cody Brown (Mississippi State), Brandon Lowe and Chris Lewis all walked to load the bases. Kevin Tatum (Cornell) hit a sacrifice fly to left field to score Brown. Lowe and Lewis moved over a base on a throwing error and then Andrew Brown (San Diego State) singled home the two, pushing the lead to 4-1.
The Big Train scored one more run in the fourth inning. Cody Manzella (High Point) walked and advanced to third on a single by Albee Weiss (Cal State Northridge). Manzella then scored on a ground out by Cody Brown.
Herndon scored two runs in the top of the 6th inning. The Big Train led 5-3 going into the bottom of the inning.
In the bottom of the 7th, the Big Train tacked on one run on a sacrifice fly hit by Ryne Willard (N.C. State) that scored Lowe who walked to lead off the inning.
The bottom of the 8th was a huge inning for the Bethesda offense accounting nine hits, three walks, a hit batter, and 11 runs. In the inning, Brandon Lowe walked in a run and hit an RBI double. Chris Lewis hit a two-RBI double. Cody Manzella hit an RBI single. Logan Farrar (Virginia Commonwealth) hit an RBI single. Kevin Tatum hit an RBI single, and Justin Morris doubled twice including a two-RBI double.
Notes: Brandon Lowe had two doubles, two RBI, 4 walks, and 5 runs scored....Chris Lewis had two hits off the center field wall and three RBI....Andrew Brown had four singles and two RBI....Justin Morris had two doubles and two RBI in one inning.