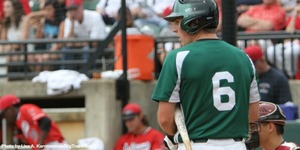 The Bethesda Big Train topped the Rockville Express 5-4 on Tuesday night on the road. The Big Train improved to 5-0 on the year, remaining at the top of the South division.
The Big Train pounced on the Express early with a three-run first inning, capped off with RBIs from Chris Lewis (Sacramento State), Brandon Hunley (Sacramento State), and Harrison Crawford (Creighton). The Big Train added another in the second on a Lewis sac fly, scoring Matt Toscano (St. Mary's (CA)), and ending Rockville starter AJ Martucci's (Concordia) outing after just 1.1 innings pitched.
The Express answered in the bottom of the second with three runs off of Big Train starter Tyler Loptien (San Diego State), including a solo homer over the left field fence by Express third baseman Ian Acevedo (Miami Dade). Loptien went three innings and allowed seven hits and three earned runs while walking none and striking out two.
Neither team scored again until the ninth inning, as Big Train righty relievers Miller Trevvett (Radford) and Blake Smith (Mississippi State) kept the Express in check while left-hander Codi Mauri (Denison) tossed seven relief innings for Rockville. The Big Train added an insurance run in the top of the 9th that would prove to be instrumental. The run came on another sac fly by Lewis, scoring leadoff hitter Cody Brown (Mississippi State).
In the bottom half, the first two Express hitters reached on Big Train defensive miscues, after which Smith was replaced by right-hander Josh Thorne (Stetson). Express pinch hitter Andrew Valichka (Harford) executed a sacrifice bunt, putting the tying run in scoring position. But Thorne would hold on for the save, retiring the next two Express hitters and securing the 5-4 win for the Big Train.
The Big Train faces the D.C. Grays on the road Wednesday, followed by a game against the Baltimore Redbirds on Thursday at Povich Field.
Notes: Big Train right-handed pitcher Tim Yandel (Tulane), who pitched five scoreless innings in a no-decision at home against the Alexandria Aces Sunday night, came into the game as a pinch hitter. Yandel went 1 for 3 and played solid defensively at first base as well... With a hit and two sacrifice flies, Chris Lewis drove in three of the squad's five runs tonight... The Big Train showed excellent patience at the plate tonight, collecting eight walks off of Express pitching.