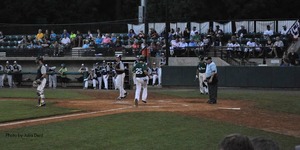 For the second straight night, Tim Yandel (Tulane) launched a walk-off double in the bottom of the ninth to give the Bethesda Big Train the 4-3 win over the visiting Gaithersburg Giants on Monday night at Shirley Povich Field.
Brandon Hunley (Sacramento State University) took first base to start the bottom of the ninth after getting hit by the pitcher. One out later, with the game tied at 3, Yandel stepped to the plate with the opportunity to do something he had never seen accomplished. He drove the ball to the exact same spot into deep right center as the previous night to give his team the win.
"To be honest, me and someone were talking about it, maybe an inning or two before, and he said 'what if you walk off again?'" Yandel said. "I was like 'to be honest I don't think I've ever seen that in my life.' Sure enough, same pitch, I hit it in the same spot as last night too."
Although Yandel swung and missed badly on the first pitch, he was able to steady himself until he found the pitch he wanted.
"After I swung at the first curveball in the dirt, I kind of just looked at the bat, told myself not to be too aggressive and get a pitch to hit," Yandel said. "Next pitch he threw a low ball and then he threw it right in the wheelhouse and I just came unglued."
The Big Train started off the game with sloppy play, as two errors in the second inning allowed the Giants to take a 1-0 advantage. The Giants would extend that lead in the third as two hits off Big Train starting pitcher Alex Calvert (University of South Carolina) gave the Giants a 3-0 lead.
From then on, the Big Train pitching staff dominated, as Calvert, Chris Monaco (Virginia Tech University), Mike Rescigno (University of Maryland) and Josh Thorne (Stetson University) combined to give up one hit for the next six innings.
Although Yandel came away with the winning hit, several other Big Train hitters contributed to the win as well. Down 3-0 in the bottom of the third, Matt Toscano (St. Mary's College (CA)) led off with a single and was able to score the team's first run on a fielder's choice.
In the bottom of the fourth, Zach Kirtley (St. Mary's College (CA)) led off with a walk and after stealing second was brought in by a Chris Lewis double down the left field line. Hunley then advanced Lewis to third where he would score from two at-bats later to tie the game.
The game would remain tied for the next five innings until Yandel finally broke the tie.
"I just saw it, it was in my zone and I swung," Yandel said. "As I watched the ball go, I just kind of thought, 'no way I just did that again.'"
VIDEO: Tim Yandel walk off https://twitter.com/gobigtrain/status/610635096740265985