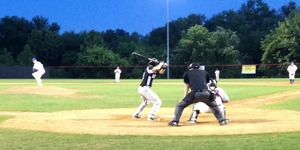 An early offensive outburst led Big Train to a 6-2 win over the Silver Spring-Takoma Thunderbolts at Montgomery Blair High School Wednesday evening.
The victory got Bethesda back into the win column, and pushed them to 15-3 on the season.
Held to just one run in Monday night's loss, the Big Train bats came out roaring against the T-Bolts Wednesday, as a single and an error put Cody Brown (Mississippi State) and Zach Kirtley (St. Mary's, Calif.) on base with one out in the top of the first. Chris Lewis (Sacramento State) then lined a single to left, scoring Brown to put Big Train up 1-0. They weren't done there, however, as the next batter, Harrison Crawford (Creighton) walked to load the bases. Justin Morris (Maryland) was then hit by a pitch to force home a run, and Tim Yandel (Tulane) followed with a single to center which scored another run, giving Big Train a 3-0 lead.
Bethesda sent nine men to the plate in the first, so leadoff hitter Logan Farrar (Virginia Commonwealth) was the first to bat in the top of the second. After taking two pitches, he hammered a ball to deep right center that landed in the woods beyond the outfield fence for his first home run of the season. Later in the inning, a two-out double by Chris Lewis gave Big Train yet another opportunity to score. After Lewis moved to third on a wild pitch, Harrison Crawford sent him home on another deep drive, this one off the base of the fence in left center. Crawford was thrown out trying to stretch a double into a triple, but the run scored and Big Train led 5-0 after two.
They added another in the fifth, after Harrison Crawford reached on an error, advanced to second on a passed ball, and moved to third on a wild pitch. Tim Yandel came through with a sacrifice fly to right, scoring Crawford and pushing Big Train's lead to 6-0.
Meanwhile, Bethesda's pitching continued its recent success, as starter Chris Monaco (Virginia Tech) pitched three shutout innings, walking two and giving up one hit. Drew Strotman (St. Mary's, Calif.), Mike Rescigno (Maryland), and Brock Larson (San Francisco) each pitched a scoreless inning as Big Train carried a one-hit shutout into the seventh.
Silver Spring-Takoma finally broke through in the seventh with two runs off Tyler Loptien (San Diego State), one of which was unearned due to a throwing error by shortstop Ryne Willard (North Carolina State). Loptien was able to work out of the jam though, striking out the Thunderbolt pinch hitter Paul Burmester to end the threat.
Blake Smith (Mississippi State) and Tyler Tobin (George Mason) each pitched a scoreless inning to close out the game, as Big Train beat the Thunderbolts for their second time in three tries this year.
Notes: Strotman picked up the win with his scoreless inning of work, improving to 2-1 on the year and lowering his ERA to 0.64…Lewis picked up his league-leading 14th RBI of the season…Yandel ranks third in the Cal Ripken League with 12 driven in…Crawford walked three times, and is tied for the league lead with 15 walks despite missing seven games…Bethesda has won eight of its last nine and remains undefeated on the road…Big Train returns home Friday for a matchup with the Gaithersburg Giants at 7:30 p.m.