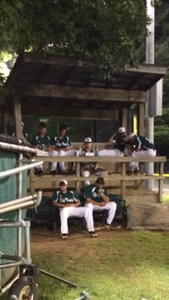 When fans walk into Shirley Povich Field to enjoy a Big Train game, they smell the scent of hot dogs fresh off the grill and hear the thud of baseballs bouncing off the wooden bats. However, one thing that most fans may not notice is the bullpen. The bullpens are located on the right and left field lines at the side of the outfield. They each are marked by elevated wooden structures, where the pitchers can sit, chat, and enjoy a great view of the game. Both pens have two mounds where the relievers can warm up and prepare to deliver for their team.
The Big Train bullpen, which faces away from the field, has a skeleton hanging from a tree that the players simply hung there for fun. These magic tree houses bring great responsibility with them. The pitchers have to rake the mound and bring game balls to the dugout before they can relax. They also do many odd things in the bullpen. For example, pitcher Tyler Warmoth (Stetson) wets his hair before each of his appearances. Warmoth explained that the bullpen is a lot more laid back than the dugout because there are no coaches around. In the pen, the guys talk about a lot of things. "Its not just baseball," said Big Train hurler Josh Thorne (Stetson). "We talk about many other things off the field." Further details about "off the field" subject matter were not given.
Although it may seem like just lounging in a tree house, being a relief pitcher can be a very tough job. The pitchers work very hard day in and day out knowing that the whole game could depend on them. They have to be able to keep their cool when they get to the mound in difficult situations. One must be clutch to perform in these moments.
This article was written by campers from the Big Train Sports Jounalism Camp.