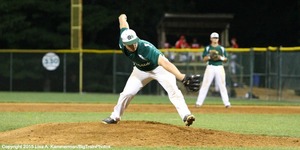 The hard throwing, sidewinder from Radford University, Miller Trevvett has won the Reliever of the Year Award for summer 2015 Big Train Managerial Awards. Despite minimal playing time as a freshman at Radford, Big Train Manager Sal Colangelo says "Radford pitching coach needs a tip of the cap" for preparing Trevvett for his summer with Big Train. Colangelo says, "Trevvett was a pleasant surprise… he started off slow, but ended as our go-to guy out of the bullpen." Colangelo continued, "If we needed to save a run, get a guy out, or get a righty out, Miller Trevvett was our guy". In 18.1 innings and 11 appearances during the regular season, Trevvett allowed only one earned run, sporting a dazzling 0.49 ERA, the lowest on the team. In addition, in 3.1 innings in the playoffs, Trevvett did not allow a single run. "Miller was our guy when we needed the bleeding to stop… when we needed an out, two outs, a double play, he always got it done."
Despite being less than six feet tall, the rising sophomore from Richmond, Virginia was an imposing force on the mound in part due to his unorthodox, side arm throwing motion. Trevvett, a sidearm thrower since the seventh grade, explained that the release point can be deceptive and effective when facing opposing batters because "the change in arm angle, speed and movement" is so different from most pitchers. It often times takes a while for a batter to pick up the release point and time the pitch of a sidearm thrower.
Along with giving up only one earned run on the season, Trevvett did a tremendous job getting ahead of batters early in the count, throwing first pitch strikes 73% of the time. Trevvett attributes his success to, "being more loose… and putting less pressure on his performance and paying more attention to getting better."
Congratulations to Miller Trevvett on a great summer with Big Train.