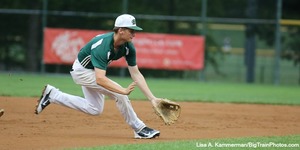 The Big Train look to get back on track after their season high five game ended yesterday. They travel down south to Vienna to take on the Riverdogs.
Bethesda is projected to put Johnny York (St. Mary's) on the mound in this midseason matchup. York impressed in his two previous starts this season, reaching the seven inning plateau in both appearances. The rising senior accumulated a 1.20 ERA and 17 strikeouts over 15 innings of work.
On the offensive side, the Big Train have certainly hit their stride. They have put up a league best 133 runs on the season. Allen Smoot (San Francsico) leads Bethesda and the Cal Ripken Sr. League with 22 RBIs. The team will look to expose Vienna's pitching staff who has given up the second most runs in the league with 129.
The Riverdogs got the better of the Big Train the last time they met, winning 15-4.
First pitch is scheduled for 7:00 p.m. at James Madison High School.