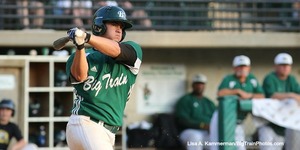 After an unfortunate rainout, the playoff-bound Bethesda Big Train return to action for the series finale against the Baltimore Dodgers. Bethesda will be the away team even though the game is at Povich Field.
The Dodgers and the Big Train have met four times this season with Bethesda taking three so far. Offense has played a crucial part in these four victories as the Bethesda bats have combined for 33 runs against Baltimore.
In their last meeting, a 6-5 Dodgers victory, Sean Labsan (FAU) had a huge game. He went 2-4 with two RBIs in the losing effort.
Chris Monaco (Virginia Tech) is projected to take the hill against the Dodgers.
Monaco posts a 4.50 ERA in six games with 13 strikeouts. He last start against the Dodgers was a rough one as the junior gave up five runs in 1.1 innings pitched. However, the Big Train would go on to win in extra innings, 8-7.
Since that rough start, the Virginia Tech product has pitched very well. He has given up a combined four earned runs over 11 innings pitched and has struck out seven batters.
First pitch is scheduled for 7:30 p.m.