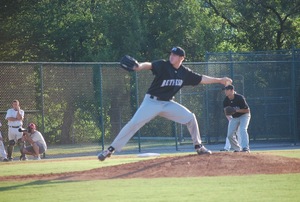 Box Score: W, 4-3
In a game that featured very few hits, the Big Train got one when it counted from Michael Bass (UNC-Wilmington) and beat the Alexandria Aces 4-3.
All was quiet until Hunter Renfroe (Mississippi State) hit a ball straight towards the setting sun in the 4th inning. While no one seemed to be able to track the flight of the ball, it was ruled a home run after the third base umpire pointed to the fair side of the base line.
In what would become a pattern, the Aces scored a run in the bottom of the 4th by scrapping together everything they could muster and bringing across a run while giving up an out.
Though he did not give up a hit, five innings and 75 pitches was the limit for new Big Train starter Jon Carlson (High Point). Coming off an injury this season in college after a line drive broke his foot, Carlson pitched very well despite leaving the game with a no decision as the game was tied at one.
After the Big Train fell behind 2-1 in the bottom of the 6th inning, the offense would work the bases loaded in the 7th. It was there that Michael Bass picked up his first RBI of the night with a bases-loaded walk to tie the game at two.
The Aces would strike again in the eighth on a sacrifice fly, giving them a 3-2 lead headed into the top of the final inning. After the first out, Cole Norton (St. Mary's (CA)) singled and Avondre Bollar (San Diego State) walked to give the Big Train two runners on and one out. A wild pitch made the situation even more tense as the runners advanced to scoring position. After getting ahead in the count, two pitches got by Bass and the Big Train were down to the last strike of the game. But Bass took a pitch right back up the middle into center field to score both runners and put the Big Train in the lead for good.
Hugh Adams (Florida Atlantic) would finish the game and earn the win for the Big Train, their fifth straight.