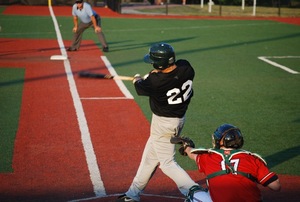 Box Score: L, 2-3
Despite giving up just one earned run in ten innings, the Big Train fell 3-2 to the Baltimore Redbirds in Towson last night. That one earned run was a walk-off solo home run that just cleared the wall and ended the Big Train's five-game winning streak.
Though his team lost, Cameron Cuneo (UC Santa Barbara) certainly wasn't a reason why. He went 6.1 strong innings of work, giving up only five hits and one earned run while striking out six. The start put him at a 0.79 ERA on the year with 14 strikeouts in 11.1 innings.
The Big Train's two runs on the evening both came from the bat of Brendan Hendriks (San Francisco). He would collect his second home run of the season in the top of the sixth, scoring both himself and leadoff hitter Michael Bass (UNC-Wilmington).
Hendriks' two-run shot erased a 2-0 lead for the Redbirds that had held since the bottom of the first inning. The Redbirds were able to score their two runs on a pair of Big Train errors earlier in the game.
Those lucky breaks for the Redbirds would be the difference in the end, as the Big Train lost on a walk-off home run by the Redbirds' Kyle Neverman. The Big Train now sit at 8-10, but have caught fire as of late as the roster has taken full shape, winning five of their last six.