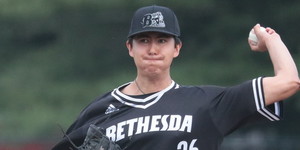 The 2019 regular season got off to hot start as the Bethesda Big Train opened the new campaign with a 10-1 road win over the Silver Spring-Takoma Thunderbolts at Montgomery Blair High School.
Bethesda wasted no runs plating their first runs of the season. In the top of the first, the Big Train scored four times. Matt Thomas (William & Mary) drove in the game's first run with a ground ball to score Darius Foster (San Fransisco). Drew Hamrock's (Virginia) run-scoring ground ball plated Gio Diaz (St. Mary's CA). Tate Soderstrom (Arizona) would add an RBI single and Anthony Piccolino (James Madison) drew a bases loaded walk to put the Big Train up 4-0 before Silver Spring even came to bat.
In the top of the second, the scoring barrage continued as Bethesda plated three more runs to push the lead to 7-0 after the Big Train capitalized on a pair of T-Bolt errors. They would also go onto tack on runs in both the top of the third and fourth thanks to an RBI ground ball by Thomas and a sacrifice fly by Kobe Kato (Arizona).
With the Bethesda offense rolling Ryan Okuda (Virginia Tech) kept the T-Bolts at bay. The Bethesda starter tossed six scoreless innings, struck out nine and allowed just two hits in his opening day start.
"It felt great." Okuda said of getting summer ball under-way. "A little less pressure than school just having fun and getting back to what I know I can do." On his dominant outing Okuda said all of his pitches worked well. "The fastball definitely, and I was able to mix in the change up too, everything was good. Good way to open the summer."
Okuda and the offense made life easy on the bullpen, and Bethesda extended their lead to 10-0 thanks to a second sacrifice fly from Kato in the ninth. Hamrock set up the final Bethesda run with two stolen bases in the frame. This large lead allowed Sebastian Martinez (Austin Peay) and Chase Lee (Alabama) to finish the job stress free. The two relievers combined for three innings of work allowing just one run as they closed out 10-1 opening day victory.
The Big Train (1-0) will now head home as Thursday they will play their home opener against the Alexandria Aces. First pitch is set for 7 p.m. with Shirley Povich Field gates opening at 5:30 p.m.