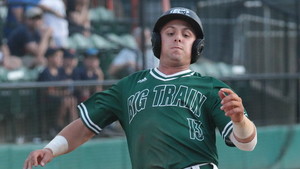 The Big Train (2-1) will look to bounce back after picking up their first loss of 2019 Friday against the Silver Spring-Takoma Thunderbolts. It will be no easy task, however, as they will welcome the undefeated DC Grays (3-0) to Shirley Povich Field.
DC comes to town after an opening day win over the Alexandria Aces on June 4th and two victories over the Gaithersburg Giants on both June 5th and 6th. So far in the early going the Grays have outscored opponents 30-18. Both Noah Searcy (Georgia Southern) and Justin Johnson (Lafayette Col) have been off to hot starts at the plate for DC. Searcy is batting .556 in the early going with five hits in nine at-bats. Johnson is batting .500 with a home run and five RBIs.
As for Bethesda, they have outscored opponents 22-12 early on this season despite the loss Friday night. Thus far they have been guided by the hot bat of Jacob Southern (Jacksonville) who hit two home runs in the Big Train's first three games. It has also been a solid start to the season for Gio Diaz (St Mary's CA), who is batting .545 with four RBIs in the team's first three games.
Saturday will be Health Night at the ballpark, with first pitch set for 7:00 p.m. and gates set to open at 5:30 p.m.