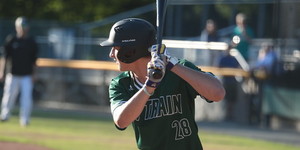 Fresh off throwing their second combined no-hitter of the 2019 season, the Bethesda Big Train (6-2) will play a doubleheader Sunday at Shirley Povich Field against the Alexandria Aces (2-6).
It will be the second and third meetings between the two teams this season. In their first match-up, the Big Train threw their first of two no-hitters this season as Dalton Ponce (St. Mary's CA) and Jack Weeks (Georgetown) combined to keep the Aces out of the hit column.
The Aces started the season a winless 0-6 ,but have heated up of late, as they've won their last two contests, outscoring their opponents 19-7. Bethesda is the hottest team in the Cal Ripken league as they enter Sunday winners of four straight. Over the course of those four games, Bethesda has thrown two shutouts and have scored 43 runs. Jacob Southern (Jacksonville) and Kobe Kato (Arizona) have led the charge as Southern leads the league in both home runs (3) and RBI's (13) while Kato leads in batting average by over 100 points as he's hitting a red hot .583.
Since the first game of the doubleheader is a makeup of last Sunday's rainout in Alexandria, the Aces will serve as the home team for game one, and the Big Train will play as the home team in game two. The clubs will play two seven-inning games with game one slated for 4 p.m. at Shirley Povich Field with gates set to open at 2:30.
The Big Train will be celebrating father's day at the ballpark, and all fans are welcome to have a catch with their dad's on the field shortly after the conclusion of Game 1.