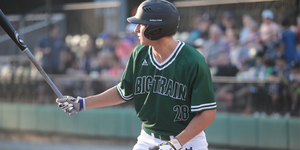 The Train may have encountered some adversity, but after their game against the D.C. Grays Tuesday they are back on their way. The Bethesda Big Train (8-3) prevailed in five innings due to a rain delay, besting the Grays 8-2.
Big Train will host the FCA Braves (5-6) for their first matchup of the season on Wednesday. With their first scheduled game being rained out last week, Bethesda is hoping to be able to take on their foes this time around. Having outscored them 33-19 in the 2018 season, Big Train will look to utilize the home field advantage in rallying the team.
Marcus Pujols (Dayton) leads the Braves offensive attack, with a team-best .320 average and four doubles. First pitch is set for 7 p.m., gates open at 5:30 p.m. It's Scout Night! Any Boys and Girls who dress in their Scout troop uniforms will get in for free - Scout's Honor! If you aren't able to make the game, don't worry! Play-by-play coverage will be broadcast by Alex Drain and Shaun Salehi, tune in here.