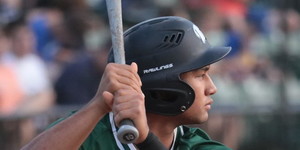 The Bethesda Big Train (9-3) will host the Silver Spring-Takoma Thunderbolts (6-4) for Star Wars Night at Shirley Povich Field Thursday.
Thursday will mark the fourth time the two teams have squared off this season. The Big Train took down the T-Bolts 10-1 in the season opener on June 5; later that week, however, Silver Spring got revenge with a 13-4 victory at Shirley Povich Field. In the two team's most recent meeting, it was the Big Train coming out victorious on their home field as they took the edge in the season series with a 12-0 victory on June 11.
Since then, however, there hasn't been a hotter team in the league than Silver Spring. The T-Bolts come to town riding a four-game winning streak in which they've outscored opponents 36-23. No one has been more reliable than outfielder Davonn Griffin (James Madison) who's batting .360 with seven RBIs so far this season.
As for the Big Train, they come into Thursday fresh off winning two straight. Both Kobe Kato (Arizona) and Jacob Southern (Jacksonville) lead the league in major offensive categories. Kato has the highest batting average at .515 and Southern has driven in the most runs with 16 RBIs.
First pitch is set for 7 p.m. with gates opening at 5:30 p.m. All fans dressed as their favorite Star Wars character will be granted free admission.