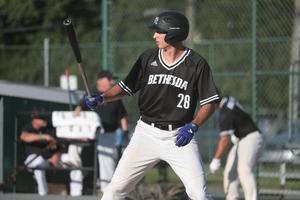 The Bethesda Big Train (13-5) and Alexandria Aces (5-9) met Sunday night with both teams having been performing well as of late. And in this one, both teams continued to prove they are clicking. For much of the night, it seemed like the Aces had the Big Train's number, but the Big Train hung in the game, and down to their final strike, they were able to surge ahead at the end to win 13-5. Let's see how it all went down:
The game started very well for the Big Train. By the middle of the sixth inning, Bethesda was ahead 3-0. Nathan Schneider (St. Mary's CA) had fired five efficient shutout innings. Martin Vincelli-Simard (Sacramento State) had driven in two runs with a single and a ground out, and Keith Torres had driven home another with a sacrifice fly. At that point, the game seemed to be in Bethesda's hands, but a poor inning turned that around.
Six straight Aces reached to open the bottom of the sixth, taking a 4-3 lead. Maceo Campbell (Longwood) entered to put out the fire, striking out two and inducing an inning-ending pop-up to keep the Alexandria rally from getting out of hand. From there, the Aces tacked on another run in the eighth--but they could have had more. On an infield hit, an Aces runnner aggressively tried to reach home plate, but was gunned down by Bethesda first baseman Matt Thomas (William & Mary). It seemed then as if that run would have been almost like rubbing in a victory, but as the game later unfolded, that failed attempt at a sixth run proved crucial in the Big Train rally.
In the ninth inning, the Big Train trailed the Aces, down 5-3. Not only that, but after Keith Torres (Sacramento State) led off the inning by being hit by a pitch, the next two batters struck out. Bethesda was down to its last out, trailing by two with only one man on. After falling behind 0-2 Kobe Kato (Arizona) managed to draw a walk, and Jacob Southern (Jacksonville) followed with another walk to load the bases for Thomas. Thomas, with the Big Train trailing by two, managed to bloop a single into short right-center field, which brought home two runners to tie the game at 5-5.
The Big Train, however, did not score again that inning, leading the game into extra innings. The tenth inning was when the rabbit got out of the hat. Or it was when the goats got loose on the field. Maybe the train got on the track? Whatever the analogy is, it was when the Big Train exploded for eight extra inning runs to win the game 13-5.
Again rallying with two outs, Kato walked to bring in the go-ahead run, and Southern and Thomas also drew bases-loaded walks to force home runs. Tate Soderstrom's (Arizona) bloop RBI single to make it 10-5, and for the last three tallies, Christian Jayne (East Carolina) took a big swing at the fences for his first home run of the season and as a member of the Big Train.
After the game, a couple of the Big Train's key players had a little to say about the close win, particularly when a couple close ones got away recently.
"It feels great, I mean--we've been in a couple close games, and we didn't end up on the right side of it," Kato said. "So, just to fight back and pull it together in those late innings was great."
"It feels really good, you know, we've played a lot of games in a short amount of days," Southern added. "It's tough, man, we've played like, seven games in five days? Gotta keep grinding, so it feels good to get the win."
The Big Train's win is their 13th, which still has them firmly in first place of the CRCBL. They'll next be in action on Monday night to take on the FCA Braves for Hunter Renfroe Night. That means, yes--San Diego Padres outfielder Hunter Renfroe will be in the ballpark. Renfroe is a Big Train alum himself, which is a reminder what a Big Train alum can become at the major league level. First pitch will be at 7 p.m., so come on down to Shirley Povich Field!