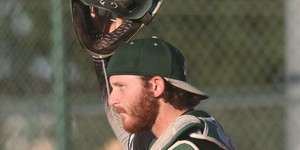 The Bethesda Big Train (14-5) will be back in action Thursday night as they travel to take on the Silver Spring-Takoma Thunderbolts (11-8). Thursday's game will be a battle of the two top teams in the Cal Ripken Leauge as the Big Train currently hold a three-game lead over the second place T-Bolts.
This will be the fifth time the two squads have squared off this season. Bethesda won the lone meeting so far this season at Montgomery Blair High School in Silver Spring on Opening Day, and have won two out of three against the T-Bolts at Shirley Povich Field. The most recent matchup between the two teams came in Bethesda on June 20 when the Big Train rolled to an 8-1 victory.
Thursday's game will feature the two players tied in the league home run lead. Both Bethesda's Jacob Southern (Jacksonville) and Silver Spring's Anthony Gallo (Lehigh) have hit five home runs so far this season. However, Gallo comes into the contest fresh off winning last week's Cal Ripken offensive player of the week after batting .333 with two home runs a week ago.
First pitch in Silver Spring is set for 7 p.m. With Mixlr back up and running Shaun Salehi, and Alex Drain will be on the call for those who cannot make the trip.