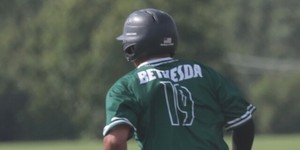 For the first time since Monday, the Bethesda Big Train (17-5) will be home at Shirley Povich Field Sunday as they'll take on the Gaithersburg Giants (11-12). Bethesda will honor manager Sal Colangelo with facts and trivia about the long time coach, as 2019 marks his 15th season as Big Train manager. It's safe to say nothing will make Colangelo more happy on his night than picking up a victory.
In order to do so, the Big Train will have to take down a team that got the best of them in their most recent match-up. After winning the first three match-ups against the Giants, the Big Train fell to Gaithersburg in the second game of a double-header between the two clubs on June 23. The game saw Bethesda enter the bottom of the ninth with the lead, but the Giants were able to rally and walk off with a victory.
Sunday's match-up will feature the two players listed as the mid-season MVP front runners by Cal Ripken League reporter Matt Cohen. The favorite according to Cohen is Bethesda's Jacob Southern (Jacksonville) who leads the league with 26 RBI's, is tied with Alexandria's Scotty Morgan (George Mason) with a league-high six home runs and is batting .325. In addition, he as proved to be reliable behind the plate as he's thrown out several base runners attempting to steal bases.
Coming in as the runner-up on the leagues MVP watch list is Gaithersburg Cade Doughty (LSU). The LSU freshman ranks second behind Bethesda's Kobe Kato (Arizona) in batting average at .405, ranks third in home runs with four and is tied for fifth in RBI's with 16.
First pitch is set for 7:00 p.m. with gates opening at 5:30 p.m.