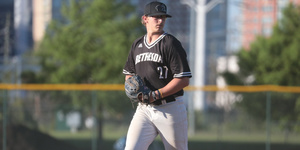 The Bethesda Big Train (18-6) will return to Shirley Povich Field on Tuesday evening after their win against the Silver Spring-Takoma Thunderbolts. Bethesda will be hosting the Alexandria Aces (9-14) for their fifth match-up of the season. Big Train will look to increase their winning record against the Aces while defending their home turf on Military Appreciation Night.
Bethesda has faced off against Alexandria a total of four times this summer season, two of them being on the home front. A third one was technically played in Shirley Povich Field: the teams were making up a cancelled game, and Big Train played as the away team. Bethesda has outscored the Aces 35-18, including a combined no-hitter in their first meeting of the year. Big Train currently sits 8.5 games ahead of the Aces in the league, claiming the leading position while Alexandria sits at fifth.
First pitch is set for 7 p.m., gates will open at 5:30 p.m. This Tuesday evening, Big Train is running a special deal! All patrons, no matter the age, will receive admission for only $5! For those who have served in the military, bring a valid I.D. and receive free admission. Can't make the game? No need to worry. Play-by-play coverage will be broadcast by Alex Drain and Shaun Salehi; tune in here.