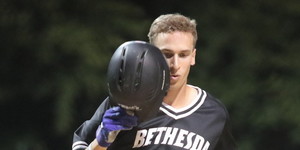 The first place Bethesda Big Train (18-6) will be back on the road Wednesday as they'll travel to the Old Dominion State to take on the Alexandria Aces (9-14). The two teams were set to square off Tuesday night at Shirley Povich Field, but rain poured down as the ceremonial first pitches were being thrown, forcing action to be postponed. Thus, Wednesday's battle will be the fifth matchup between the two teams rather than the sixth.
In the first four meetings, Bethesda is 3-1 against the Aces, including no-hitting them back on June 6. Their latest matchup came in Alexandria on June 23 when Matt Thomas (William & Mary) hit a game-tying single with the Big Train down to their final out. That would force extra innings where the Big Train rallied for eight runs in the top of the tenth to win the game 13-5.
Wednesday's game will feature the two players tied for the league lead in home runs. The Cal Ripken league MVP front runner Jacob Southern (Jacksonville) of Bethesda and Alexandria's Scotty Morgan (George Mason) have each hit six home runs this season. First pitch from Alexandria's Frank Mann Field is set for 6:30 p.m., with Alex Drain and Shaun Salehi on the call on Mixlr.