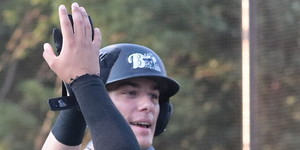 The first place Bethesda Big Train (23-6) will be back in action Saturday night as they'll host the second-place D.C. Grays (16-16) at Shirley Povich Field.
Bethesda is in the midst of playing their best baseball of the season as they enter play Saturday winners of six straight and nine of their last ten games. With their recent play, the Big Train are the seventh-ranked summer league team in the nation according to the Collegiate Summer Baseball Register.
Though they've mostly rolled through their opponents, one team that has given the Big Train fits is the D.C. Grays. In six meetings, Bethesda is 4-2 against D.C., but four of those games have been decided by just one run. D.C. is led by all-star outfielder Jordan Wiley (Louisiana Lafayette). Wiley ranks second in the league in batting average behind Bethesda's Kobe Kato (Arizona) with a .375 batting average and trails only Big Train catcher Jacob Southern (Jacksonville) with 25 RBI's.
First pitch is set for 7 p.m. with gates opening at 5:30 p.m. It will be Halloween Night at the ballpark, and all fans dressed in costume will receive free admission.