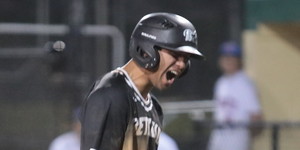 With just three games left in the 2019 regular season, the Bethesda Big Train (29-6) will be making their final scheduled trip to Montgomery Blair High School Sunday to take on the Silver Spring-Takoma Thunderbolts (19-16). It will be the teams' eighth meeting of the season. Thus far, Bethesda is 6-1 against the T-Bolts this season, outscoring their in-county rival 63-31 in those seven games.
Despite having trouble against the Big Train, the T-Bolts have put together a solid 2019 season. Outside of Bethesda, they're the only team in the Cal Ripken League with a winning record and are one win or DC Grays (16-19) loss away from clinching the second of two byes in the postseason.
With home field throughout the playoffs already clinched the Big Train will simply be looking to play spoiler to a T-Bolts team looking to lock up a bye of their own. If the Big Train pick up the victory, it will be their 30th of the season and extend their current win streak to 13, a Big Train all-time record.
First pitch is set for 7 p.m. in Silver Spring with Alex Drain and Shaun Salehi on the call.