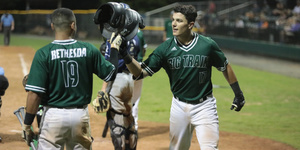 The Bethesda Big Train will be hosting the D.C. Grays for the final home game of the season on Tuesday evening. The two teams will face off in their eighth game of the 2019 summer season, Bethesda claiming five of the games as wins.
Come learn about a critical behind the scenes factor for the Big Train, the Host families of the players! Tuesday is Host Family Night as well as $5 Tuesday, a great treat for the winding down of the summer.
Bethesda and D.C. have kept the games exciting as they battled head-to-head. Four of the previous games have been decided by one run. Critical plays, both offensive and defensive, have given the crowd great entertainment as the two teams battled it out. Cade Hunter (Virginia Tech) smacked his first home run of the season in the July 13th duel against the Grays, his first at the collegiate level.
First pitch is set for 7 p.m. with gates opening at 5:30 p.m. All tickets will be sold at $5, no matter the age of the fan! Come and support the wonderful host families in the final home game of the summer season.
Can't attend the game? No need to worry! Play-by-play coverage will be broadcast by Alex Drain and Shaun Salehi; tune in here.