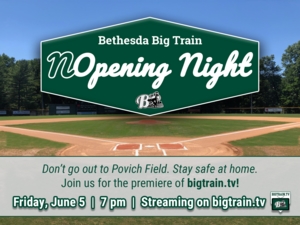 Missing baseball? We've got you covered!
Tune in this Friday, June 5, at 7 p.m. as we bring the magic of a Big Train Opening Night right to your living room! We'll have first pitches, a national anthem, fan statements and game highlights and more as we kick off this summer's "Safe at Home" programming on bigtrain.tv.
So grab a hot dog, popcorn or your favorite ice cream and we'll see you Friday night – virtually, of course.
Don't go out to Povich Field. Stay safe at home and join us Friday, June 5 at 7 p.m. for the premiere of bigtrain.tv!