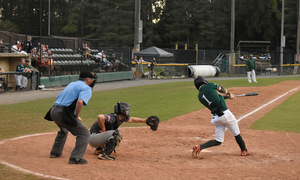 The Bethesda Big Train played their final preseason exhibition game before the regular season begins Tuesday. Unlike Saturday's flat performance, Bethesda dominated from the start, putting up nine runs on two hits in the first inning. That was the big storyline of Sunday's contest.
Bethesda was able to get on base early and score on a wild pitch to take a quick 1-0 lead. Clay Wargo (Coastal Carolina) was hit by a pitch with the bases loaded to drive in another run and the Southern Maryland Senators' pitcher walked in two runs to make it 4-0.
Then the bats came alive. Colton Hegwood (Louisiana Tech) was the pillar of the Big Train offense on Sunday. He smashed an RBI double down the first base line and also had a solo home run over the batter's eye in dead center.
"Just being in a good 'ready position' to hit early and slow it down, and being able to separate myself to see the ball better," Hegwood said was the key to a strong performance.
But Bethesda didn't stop there. Emilien Pitre (Kentucky) hit an RBI single to extend the lead. The 9 runs in the first inning propelled the Big Train to a dominant 13-1 win.
While these two exhibition games do not count toward the regular season standings, they were meant to get players into a routine to prepare for the summer season.
"A lot of us didn't get the amount of at-bats we wanted during our college seasons," Hegwood said. "So it was just getting back in the box and getting our timing back down."
Bethesda ended the game with 10 hits on 13 runs.
Big Train kicks off the regular season on Tuesday, Jun. 7, against the Takoma Thunderbolts at 7 p.m. at Shirley Povich Field.