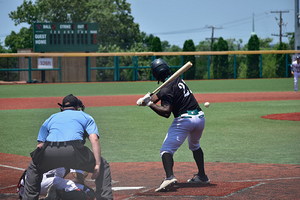 When the eighth inning came to an end, the Bethesda Big Train (12–2) found themselves in familiar territory, trailing in the final inning. Needing two runs to tie the D.C. Grays (6–9), Emilien Pitre (Kentucky) stepped up to the plate to lead off the ninth, looking to spark a rally.
Doing just that, Pitre drew a walk and Garrett Felix (Nicholls State) and Peyton Schulze (Long Beach State) followed up with singles to set up Sean Lane (Maryland) with the bases loaded and no outs
The Terp came through, dropping a soft line drive over Grays' shortstop Ozzie Pratt's head, scoring Pitre and Felix and tying the game at three. TJ Rogers (Austin Peay State) was called on to pinch hit, looking to to complete the Bethesda comeback.
Battling in the count, Rogers got a two-strike slider down in the zone. Staying on the ball, he slapped a double down the right field line over Gray's first baseman Dane Camphausen to give the Big Train its first lead of the game as Lane came in to score.
"When you're battling with two strikes, you're trying to put the ball in play," Rogers said. "Luckily, I was able to do that."
In the bottom half of the ninth, Andrew Johnson (Maryland) relieved Kai Burdick (San Francisco) and had another save opportunity. Coming in with a runner on first, Johnson came up clutch, striking out the three batters he faced, securing another comeback victory for Bethesda.
"I've said it all along. We got great kids that come from great universities," Big Train head coach Sal Colangelo said. "They come from universities with high expectations with excellence. And we're not going to let them fold and we're not going to let them quit."
But for most of the game, it looked like the Big Train would lose their second in a row. The Grays got on the board in the bottom of the first inning. An errant throw from Big Train catcher Baylor Cobb (Louisiana Tech) allowed Tyler Horvat to score, giving the Grays a 1-0 lead.
In the fifth inning, the Grays tacked on two more thanks to a RBI double from Sam Blancato and an RBI single from Cameron Bufford, extending their lead to 3-0.
However, Bethesda responded in the sixth when DM Jefferson (Notre Dame) crushed a solo home run over the right centerfield fence to cut the Grays lead to 3-1.
In just his third game with the team, Jefferson went 3-for-4 coming a triple shy of the cycle. Since coming to Bethesda from the College World Series, Jefferson is hitting .556 with three extra base hits and two RBIs.
"I haven't had one of those [home runs] in a while," Jefferson said. "So, it felt good running around first base. But I'm just trying to do that every day."
After Kade Woods (Alabama) started the game and threw 1.2 inning in his continued comeback from Tommy John Surgery, Merritt Beeker (East Carolina) came in and threw 3.1. Woods gave up an unearned run, while Beeker gave up two. At the start of the sixth, Burdick was tasked with keeping the Grays lead to just two runs. He did just that, pitching his longest outing of the year, keeping the Grays off the scoreboard.
Despite walking three batters, Burdick worked himself out of trouble multiple times. He pitched three innings, allowing no runs and striking out one. Johnson would relieve him in the ninth and the Big Train earned their 12th win of the season.
"Every day you got to be ready," Burdick said. "It's the life of a reliever. You got to be ready every game, taking care of your arm and getting mentally ready to come into different situations."
The Big Train hope to build on this victory and start a new winning streak.
Up next, the Big Train travel to Lorton, Virginia, to take on the Metro South County Braves. They will continue their unfinished game from June 8. at 6 p.m. before beginning their scheduled game at 7 p.m.