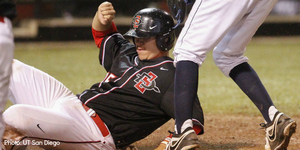 If it wasn't apparent already, it became so this week that third baseman Ty France (BT '13) has become one of the rising stars of the Mountain West Conference, and of college baseball. France had himself another big week for the Aztecs, who, after winning all four of their games this week, now sit at 16-4 overall. In these four games, France went 6/14 with a walk, two doubles, five RBIs and five runs scored. France also reached base two more times via the hit-by-pitch. On the mound, Bubba Derby (BT '13) pitched his way his third win of the season. It was arguably Derby's best start yet this year, as he gave up just one earned run (two total runs) on five hits and a walk over 6.2 innings, striking out eight. Derby has yet to take a loss this year.
Back east, outfielder Kyle Wernicki (BT '13) had a big week at the plate for the Virginia Tech Hokies. In four games, Wernicki went 5/15 with a home run, a double, a walk, two RBIs, five runs scored and two stolen bases. The Hokies proceeded to win all four games (three against Pittsburgh, one against Rutgers), helping push their record back over .500 as they now sit at 10-8 overall.
Down south at Florida Atlantic, first baseman Ricky Santiago (BT '13) went 4/12 in the Owls' three games this week, also contributing an RBI and two runs scored. Shortstop Mitch Morales (BT '12) also contributed a double and a run scored in the Owls' 3-2 win over Louisiana Tech on Sunday.