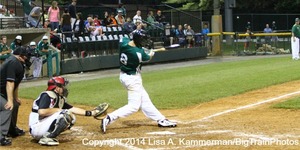 On a cool summer night, the Youse's Orioles played host to the Bethesda Big Train at Povich Field on Saturday Night. The Big Train looked to continue their strong play as Kit Scheetz (Virginia Tech) took the mound. Scheetz was spectacular, going six strong, giving up no runs on only three hits while striking out seven batters, including one in every inning.
The Big Train bullpen was great in their three innings of work. Devon Loomis (San Francisco), Bo Logan (Florida Atlantic), and Will Resnik (High Point) each pitched an inning to secure the Big Train victory. All season, the Big Train bullpen has been tremendous and tonight was no different.
The Big Train crossed the plate for two runs in the top of the 3rd inning on three consecutive singles by Andrew Brown (San Diego State), Cody Brown (Mississippi State), and Josh Spano (High Point). Spano's single brought home Andrew Brown, and then after a wild pitch, Stephen Alemais (Tulane) hit a sacrifice fly that scored Cody Brown.
In the bottom of the 3rd, the Orioles threatened to score with a man on third base and second base with one out and the Oriole's third batter up. Kit Scheetz forced a fly out to Cody Brown in right field who then threw the ball on a rope to Josh Spano at home plate, who tagged out the runner for a crowd pleasing inning ending double play.
The Big Train were able to score again in the 7th inning. Wes Rea (Mississippi State) rocketed a ball off the center field wall and the next batter, Ryne Willard (N.C. State), crushed a two-run home run deep into the trees over the left field wall. This was the first regular season home run hit by the Big Train at Povich Field and gave them a 4-0 lead.
In the 8th inning, Stephen Alemais reached base on a single, and stole second and third base for his league leading 13th and 14th stolen bases of the season. He then scored on a bad throw by the Orioles catcher while stealing third base. After three consecutive walks for the Big Train, Wes Rea hit a sacrifice fly to score Logan Farrar and give the Big Train a 6-0 lead.
The Orioles scored a run in the bottom of the 9th, but it was not enough, as the Big Train won 6-1.