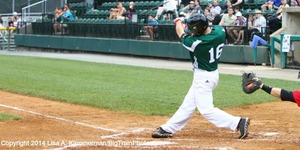 Sean Labsan (Florida Atlantic) recieved the starting nod for the Bethesda Big Train on a wednesday night game against the Herndon Braves. Labsan pitched his best game of the season in the rain shortened 1-0 win, giving up four hits, one walk, while striking out four through five innings.
Tim Yandel (Tulane) was the only man out of the Big Train bullpen and recorded the save. He threw the 6th inning and struck out one batter in a quick seven pitch inning. The game ended in the bottom of the 6th inning due to rain.
After Labsan escaped a bases loaded one-out jam in the top of the 1st, the Big Train were able to capatalize and take an early lead on the Braves. Brandon Lowe (Maryland) continued his hot start, smashing a solo shot deep into the night sky to give the Big Train a 1-0 lead. That home run marked Lowe's second in only 13 at bats this season.
Because five innings were completed before the rain started, the game was official, and the Big Train were 1-0 winners.
Notes: Justin Morris (Maryland) reached base twice... The Big Train return home to Povich Field on Saturday the 28th against the Baltimore Redbirds for Nationals Night.