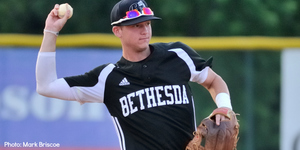 The Bethesda Big Train took on the Silver Spring-Takoma Thunderbolts on a beautiful Thursday night at Montgomery Blair High School. Kit Scheetz (Virginia Tech) took the rubber for the Big Train in the 10-5 ballgame and picked up his fourth win of the season in six innings of work giving up only one run.
Scheetz surrendered four hits and two walks but was able to minimize damage and get out of innings when the T-Bolts had men on base. Kit Scheetz is now 4-0 on the season with a low 0.82 ERA.
Three members of the Big Train bullpen pitched on the night. Ray Lambert (Cal St. Northridge) pitched one inning of hitless ball and Henry Sisson (North Carolina) had two strikeouts in his scoreless inning. Andy Frakes (San Francisco) had his first rough outing of the season, giving up four runs, but only two earned.
In the top of the 2nd inning, the Big Train opened the scoring when Wes Rea (Mississippi State) clobbered the ball to left center field for his first home run of the season and the team's league leading 11th home run.
The Thunderbolts tied the game in the top of the 3rd, but were unable to keep the lead when the Big Train came up to bat in the top of the 4th. Kevin Tatum (Cornell) came up with a perfectly executed sacrifice fly with the bases loaded. Then, with Cody Brown (Mississippi State) batting, Ryne Willard (N.C. State) scored on a wild pitch giving the Big Train a 3-1 lead.
The Big Train scored two more runs in the top of the 6th to push the lead to 5-1. After Brandon Lowe (Maryland), and Chris Lewis (Sacramento State) singled and Ryne WIllard was hit by a pitch to load the bases, Kevin Tatum walked in his ninth RBI on the season. Tony DiLeo (Eastern Michigan) singled home Lewis two batters later, but the Big Train were unable to score again in the inning.
In the 7th inning Chris Lewis knocked home Logan Farrar (Virginia Commonwealth) who scored his 16th run of the season which is good enough for second in the league.
The Big Train was able to take a commanding lead in the top of the 8th when they put up four more runs. With Wes Rea and Kevin Tatum on second and third, Tony DiLeo doubled the two home for his second and third RBI of the game. With two outs Logan Farrar recorded his 17th RBI on the season on a double that scored DiLeo. Farrar was able to score again on an error by the T-Bolts while Brandon Lowe was batting.
Notes: The Big Train had 15 hits....Brandon Lowe and Chris Lewis each had three hits....Cody Brown, Tony DiLeo, and Logan Farrar all had two hits....Come out Saturday Night as the Big Train host the Baltimore Redbirds.