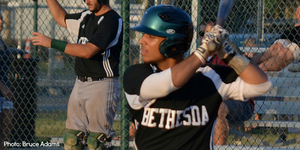 On Monday night the Bethesda Big Train traveled to Alexandria to play the Aces. Jake Valdez (St Mary's College (CA)) got the start and gave up eight hits and four runs in five and two thirds innings in the 5-2 loss. The Big Train struggled at the plate on a night where the Aces pitcher pitched a complete game with 11 strikeouts.
The Big Train scored their only two runs in the top of the 2nd inning. Johnny Cole (Coastal Carolina) led off with a single and then scored on a Kevin Tatum (Cornell) triple to right field. With Tatum still on third base, Wes Rea (Mississippi State) hit a sacrifice fly to left field to give the Big Train an early 2-0 lead.
The Big Train were kept in check the rest of the night at the plate and the Aces offense hit stride, scoring in the 2nd, 4th, 6th, and 8th innings.
Bethesda looks to come back strong on Tuesday for a double header against the Vienna River Dogs.
Notes: Albee Weiss (Cal St. Northridge) made his first appearance for the Big Train and doubled in his only at bat.