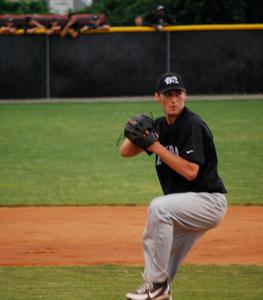 Box Score: L, 1-2
Two earned runs allowed by the pitching staff were just too much for the Big Train offense to overcome last night, as the team lost 2-1 on the road against the Herndon Braves.
The Big Train jumped out with the early one-run lead in the top of the first inning, as Hunter Renfroe (Mississippi State) hit a one-out double in to drive in Michael Bass (UNC-Wilmington). The lead would stand for another four innings until the Braves finally got on the scoreboard in the bottom of the fifth.
Starting pitcher Ethan Miller (San Diego State) went five strong innings, giving up only the one run in the bottom of the fifth. Miller would turn it over to the bullpen in the sixth inning with the score tied 1-1.
Derrick Sylve (Southeastern Community College (NC)) and Hugh Adams (Florida Atlantic) would then pitch the final three innings, only giving up one run and two hits collectively while striking out three. However, the run would be enough to drop the Big Train's record to 1-1 thus far on their three-game road trip.
Adam Barry (Cal State Northridge) made his return to the lineup last night, going 2-4 with two singles. With both Barry and Renfroe back in the lineup, expect a lot more nights like we saw on Sunday as the Big Train scored 11 runs in their win against the DC Grays. The pitching staff held opposing batters to two or less runs for the second consecutive game, building on last night's shutout of the DC Grays.