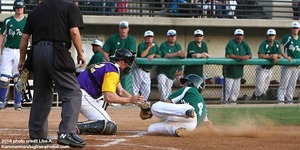 After their torrid start, the Bethesda Big Train have dropped their last two games to fall to 3-2 on the season. However, the Big Train hope to rediscover the offensive firepower that ignited that streak against the Rockville Express (1-3) on Sunday. One player to watch, in addition to the still red-hot Clayton Daniel (Jacksonville State), is catcher Mike Emodi (Creighton). Emodi has only played in three games so far, but his bat has still impressed in a limited sample. The sophomore's .333 batting average is tied for second on the team.
The starting pitcher for the Big Train will be Sean Barry (San Diego). The senior right-hander pitched mostly out of the bullpen this past season, finishing with a 4.88 ERA and 30 strikeouts in 31 1/3 innings pitched.
First pitch will be at 7 p.m. in Rockville. Take the short trip out to Montgomery College-Rockville and cheer on your Bethesda Big Train!