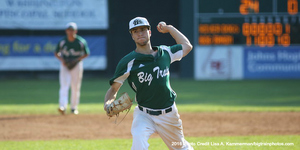 Following an exciting 8-3 win over the Herndon Braves on Thursday, Bethesda Big Train looks to top the Baltimore Redbirds in their second matchup of the season on Friday at Povich Field. In the first game between the two, the Redbirds triumphed in a 5-4 victory, earning the lead in the season series.
Bethesda's projected starting pitcher is left-hander Johnny York (St. Mary's College). York currently boasts a 0.00 ERA over 8 innings. His longest outing of the season was a start against the Vienna River Dogs in game one of Big Train's June 19 doubleheader. He pitched 7 innings (a complete game), allowing only 3 hits, striking out 7, and notching his first win of the summer. York also was selected as the Cal Ripken League's 'Pitcher of the Week' for June 13th-19th. Look for him to continue to be dominant versus the Redbirds.
Infielder Allen Smoot (University of San Francisco) has looked good at the plate lately, batting .417 (5 for 12) over his last three games, including a home run. Over that time, Smoot drove in 4 runs and scored 2. Smoot leads Big Train with 14 RBIs. Clayton Daniel (Jacksonville State University), batting in the 2-hole for Bethesda, leads the team with a .471 on base percentage. Watch for Daniel to get on base and for Smoot to drive him in.
First pitch is scheduled for 7:30 PM at Shirley Povich Field. Big Train is celebrating Nationals Night, and Washington mascots Screech and Abe will be in attendance.